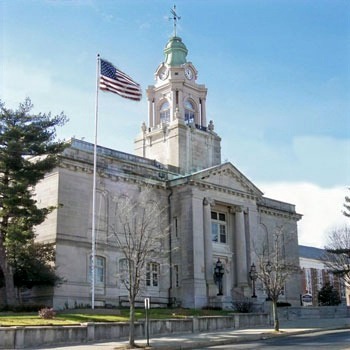 Address:
60 West Broad Street
Bridgeton, NJ 08302
Phone:
(856) 451-8000
Hours of Operation:
Monday - Friday 8:30 a.m. to 4:30 p.m.
The Cumberland County Courthouse stands at the corner of Broad and Fayette Streets in Bridgeton, the county seat. This structure and those which precede it have stood on this spot - or just a stone's throw away - for more than 200 years. From the time the first frame building was constructed in 1752 until the present date, the Court House has represented the hub of the county.
The officers that are assigned there are responsible for security of the building and all of it's rooms and offices. Their duties include (but are not limited to):
The screening of all persons and packages that enter the court house
Providing security in the hallways and courtrooms
Controlling access to all areas of the courthouse, including both secure and public areas
Prisoner care and custody while prisoners are in the courthouse.
Courthouse Weapons Screening
To ensure the highest security, the Cumberland County Sheriff's Office provides weapons screening at the courthouse. Every visitor is required to walk through a metal detector. All hand-carried bags, luggage and packages will be placed in a basket to be x-rayed or searched by hand. Devices used are harmless and represent no health hazard. Visitors may be asked to remove shoes, belts or other articles, including items in pockets. The purpose of the screening is to prevent restricted weapons or contraband from being brought into the courthouse.
The following items are among those not permitted in the courthouse. The Sheriff's Office will not hold the items for safekeeping:
Firearms
Knives (regardless of length)
Stun guns, mace or other harmful materials
Illegal drugs or alcoholic beverages
Any item an Officer believes can be used as a weapon will not be allowed in the courthouse.
No food or drink allowed unless you are on Jury Duty.
Please allow extra time for the screening process to ensure that you will not be late for any court appearances.
The use of cell phones and electronic devices is prohibited in the courtrooms.
All devices must be turned off before entering the courtroom.
Parking for Cumberland County Courthouse
Parking for jurors and court users is available in the county parking garage located on Vine Street behind the Prosecutor's Office building (west of Fayette Street and Vine Street intersection). Some local street parking is also available.
Emergency Closing Information:
In the event of inclement weather, the closing of the Cumberland County Courts and/or court offices will be broadcast on the following radio stations starting at 6:30 am.
WVLT (92.1 FM), WSNJ (1240 AM) and WMVB (1440 AM Spanish)
Call (856) 453-8090 for recorded message.